The People Democratic Party (PDP) has condemned in its entirety the recent snubbing of Nigerian Senate by the Inspector General of Police, Mr Idris Ibrahim who had shunned the invitation of the Senate for 3 consecutive time over the worsening security situation of the country.
In her official twitter page, the PDP said that Nigeria is drifting towards totalitarianlism under this current administration led by President Muhammadu Buhari.
The PDP accused the police boss of treating the Senate with so much dishonour and disdain. The party said such has never happened in the democratic history of Nigeria.
"It is instructive to state that never in our democratic history as a people and a nation, has a service chief or an inspector general of Police treated the nassional assembly of nigeria with as much dishonor and disdain like the current IGP."
"We therefore condemn this offensive on our democracy by IGP Idris as well as the deliberate insult being heaped on each of our legislators by appointees of President Muhammadu Buhari."
"We invite Nigerians to note that totalitarianism does not begin in a day. It starts from a deliberate disrespect to statutes, laws and institutions that engender democracy and rule of law"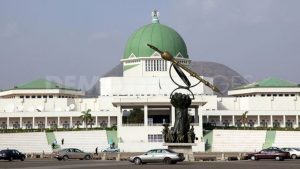 The party therefore charged the Senate under Dr. Bukola Saraki to restore the dignity of the legislative chamber.
"We therefore charge the Senate to take the next step within their legislative instrument and powers to restore the respect and dignity which the generality of Nigerians and the 1999 Constitution (as amended) bestow on them. "