Below is a picture of a man apprehended by the police with charms at the venue of the All Progressives Congress (APC) gubernatorial primary election in Ekiti State.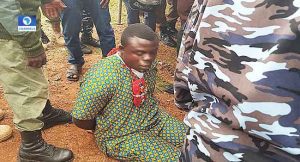 The man was alleged to be causing trouble at the primary election venue.
He was first cautioned by security officials but was later arrested when he appeared to be causing trouble.
After a thorough search on him, the charm he tied around his waiste was recovered from him by the police.
The man said he was part of the APC delegates who came to cast his vote. Upon inquiry by the police, the man said he intentionally tied the charm to his waist on his way to the venue to protect himself against shootings or stray bullet at the venue as he heard that some politicians may likely come to unleash trouble on people with thugs at the venue.