President Muhammadu Buhari has declared June 12 as Democracy Day in honour of the late M. K. O Abiola.
He also conferred a posthumous GCFR title on the late Chief Moshood Abiola.
The President in a tweet on his official handle explained why June 12 will replace May 29. He noted that June 12 is a more symbolic day.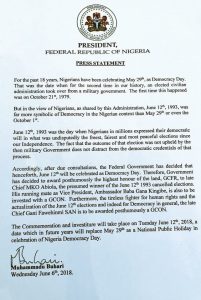 "Dear Nigerians, I am delighted to announce that, after due consultations, the Federal Government has decided that henceforth, June 12 will be celebrated as Democracy Day.
"We have also decided to award posthumously the highest Honour in the land, GCFR, to the late Chief MKO Abiola.
"In the view of Nigerians, as shared by this Administration, June 12, 1993, was and is far more symbolic of Democracy in the Nigerian context than May 29, or even October 1," his tweet read.