The Peoples Democratic Party (PDP) has replied vice president Yemi Osinbajo who said that he will not compromise his faith due to politics by describing the vice president and his boss, president Muhammadu Buhari as too desperate for 2019 election.
The opposition party (PDP) described Osinbajo's visit to Benue State as an act of desperation that casts doubt publicly on his professed Christian faith and an attempt to "swindle votes" ahead of the 2019 general elections.
In a statement signed by its Deputy National Publicity Secretary, Mr. Emmanuel Agbo, in Abuja, on Wednesday, the PDP noted that Osinbajo's alleged desperation to be Buhari's running mate in 2019 "casts doubt publicly on his professed Christian faith."
According to the party, the Vice-President's visit to Abagana, Gbajimba and Anyii Internally Displaced Persons' camps was political."A political attempt at window dressing the already damaged image of President Muhammadu Buhari's administration and an insult to the grieving people of Benue State."
The PDP statement read:
"Osinbajo did not visit the people of Benue when two priests and 17 parishioners were killed, neither does he agree that the herdsmen who killed 73 Christians in the state are terrorists."
"It is pathetic that while Osinbajo speaks loudly against former President Goodluck Jonathan and the opposition, he remained voiceless until our people were made refugees in their own land.
"Since the news of the cabal's plan to pick a new running mate for Buhari ahead of the 2019 presidential election became public knowledge, Osinbajo has since shown a level of desperation that casts doubt publicly on his professed Christian faith."
"Osinbajo's promise during his visit to the IDP camps in the state that President Buhari has approved a total of N10bn for the rehabilitation of communities affected by violent attacks in parts of the country, further shows that the Federal Government is totally disconnected from the people."
"This shameless act affirms that Buhari's administration fail to realise that money cannot replace or buy back the lives lost to the reckless slaughter of innocent citizens by Fulani extremists."
By this dishonest act, the Buhari administration has only added insult to the injury of Benue people. The Buhari-led Federal Government who promised N50bn for states who donate land for Fulani herdsmen in the name of colony unfortunately has only N10bn for all those internally displaced farmers that cut across more than 13 states in the country."
The party which described the N10bn as "blood money" said the VP and the President should "eat" the money, arguing that the life of one Benue citizen was worth more than the money.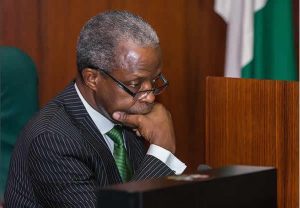 "Let it be on record that the people of Benue will not be deceived by those who impoverished our people and watched us bury our sons and daughters while they gave nothing but excuses," the statement added."