The peoples of Okitipupa State constituency II of Ondo State who are supporters of the former Chairman of Okitipupa local government of Ondo State, Hon. Solomon Bitire, today, created a scene at the party's secretariat of the opposition Peoples Democratic Party (PDP) in Akure when they thronged the hall of the secretariat, leaving little or no room for movement while performing musical interlude, popularly called "Biripo"- an Ikale traditional songs, in solidarity, as the former council boss, Bitire, picked the party's (PDP) intent form for the seat of Ondo State House of Assembly, Okititpupa State constituency II of Ondo State.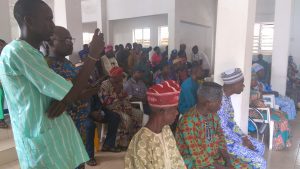 While addressing the large PDP supporters that cut across the 6 wards of Okitipupa constituency II, Solomon Bitire, sought the support of the leadership of the party for the realisation of the aspiration of his ambition to become member of the Ondo state house of assembly, saying that, it was 28 years ago when last his ward (Erinje ward) had produced any representatives to the state assembly of Ondo State.
Bitire said: "We have 6 wards under Okitipupa State constituency II. The six wards are Ode Aye 1 and 2, Okitipupa 1 and 2, Ayeka/Igbodigo/Okunmo, and Erinje wards. But since return of democracy, only Ejrinje ward has not produced a representative to the state assembly out of these six wards.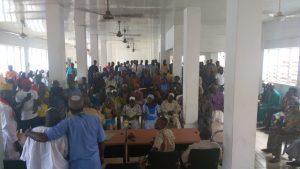 "Ode Aye community has spent 12 years, Ayeka, Igbodigo and Okunmo ward had spent 4 years, Okitipupa town will be completing their 8 years in 2019. Can you now see why my community (Ode Erinje) must be considered to produce the next lawmaker from the constituency?" Bitire hinted, while he was responding to questions thrown at him by the Press.
In his response, the state Chairman of PDP in Ondo State, Engr. Faboyede Clement, said that Solomon Bitire has been tested and trusted.
His words: "Bitire is a no nonsense man who has been tested and trusted. Bitire was former chairman of the party in Okitipupa local government, former chairman of chairmen of PDP Local government executives forum. He was past local government Chairman of Okitipupa. He won't become a stooge of any governor if he goes to the state house of assembly and he won't be a runaway lawmaker unlike some people, if given the PDP ticket.
"I am confidence that Bitire won't become a rubber stamp lawmaker of any state governor, he is a man I can vouch for. Bitire is brave, experienced, a dogged fighter and a grass root politician. I am saying this because this present house of assembly in Ondo State populated by APC lawmakers is a rubber stamp of the state government whereby the state governor has impeached the lawmakers instead of the lawmakers impeaching the governor.
"The PDP won't send representatives that are not capable to the state house of assembly whereby one state governor will be using remote control to control the lawmakers", Faboyede said.
"I pray for Solomon Bitire to succeed in winning the PDP ticket for Okitipupa state constituency II; if only it is the will of God, Faboyede said.
He also advised the people to vote out what he called Fulani boko haram Party from Ondo State and across Nigeria in 2019 if the people are tired of bloodshed. He said the people should not also trade the future of their generation for money during election.
After leaving the PDP state secretariat in Akure, Solomon Bitire and his supporters paid a courtesy visit to the the house of Dr. Dapo Iwala, former chairman of Okitipupa local government for a brief meeting.
Present at the PDP secretariat today were some notable PDP leaders: Some serving Honourable Members of Ondo State house of assembly, some former Commissioners, some former special assistants to Dr. Mimiko, some party executives such as: ward chairmen, women leader and youth leaders. Several PDP notable party leaders were also in attendance.
Click here to subscriber to our youtube channel