Subsidy Removal: NNPCL Releases N488 To N557 Fuel Pump Price
1.1 min read
Categories: News
Following President Bola Tinubu's announcement of fuel subsidy removal on Monday during his inaugural speech, the Nigerian National Petroleum Company Limited (NNPCL) on Wednesday morning released a list of adjusted pump prices for its mega stations across the 36 states of the federation and the Federal Capital Territory, Abuja.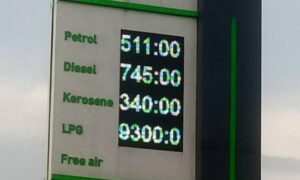 According to the released price list, the new pump price for fuel, also known as premium motor spirit (PMS), ranges from N488 in Lagos State to N557 per litre in Yobe and Borno states, while it is N537 in Abuja.
It was gathered that the NNPCL management has instructed all the management of its mega stations across the country to immediately implement the new price at all their Mega/Standard/Leased Stations.
The development has been confirmed in Port Harcourt, Rivers State capital and Yenagua, Bayelsa state capital where the NNPCL mega stations are opened for sale but motorists refused to buy the product at the new price as they lament that the price is beyond what they can afford.
There have been agitations across the country over the announcement of the fuel subsidy removal by President Tinubu with the immediate geometric price hikes of the product following the announcement.
Credit: Sahara Reporters