Photos: Global protests in Geneva by supporters for release of Nnamdi Kanu
1.1 min read
Categories: News
Supporters and Separatists for Biafra Nation have taken to the waterfronts of the historic city of Geneva to begin global protests for the release of the leader of the proscribed Indigenous People of Biafra, IPOB, Mazi Nnamdi Kanu, as part of the ongoing global protests for his immediate release.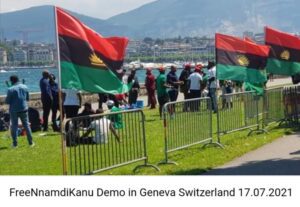 Starnews Nigeria reports that Kanu was re-arrested on the 29th of June, expatriated to Nigeria to face trial for alleged treason. The IPOB leader was first arraigned on 23 November 2015 in an Abuja Magistrate Court by DSS.
Born in 1967, Kanu founded IPOB in 2014 to achieve a sovereign state called 'Biafra'.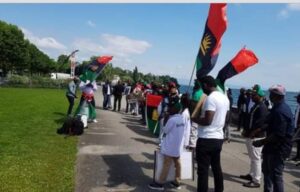 But on April 28, 2017, Kanu was released from prison on bail. Reports had it that Kanu allegedly jumped bail after military action, code-named "Operation Python Dance", allegedly targeted his family house in Abia state.
Three years after, Mazi Kanu was re-arrested in an African country and was brought back to Nigeria to face charges levelled against him.
There have been protests in Brazil, Austria, London, Japan, Germany, Ireland, France, America, Italy, with protesters demanding his immediate release and there are many more scheduled protests to come, Starnews Nigeria has learnt.