Former Commissioner for Transport in Ondo State and Peoples Democratic Party (PDP) Senatorial Candidate in Ondo South for 2019 election, Otunba Nicholas Tofowomo, has released his profile for the attention of the general public as election draws nearer.
In a release made available to Starnews in Akure, the Ondo State Capital, by his Director of Media and Publicity, Akinrinlola Olumide, Tofowomo said the release of his profile to the public is necessary so as for his immediate constituents to have more background information about him as he seeks the support of the people in 2019 general election.
Read below the Profile of Tofowomo as delivered to Starnews:
Former Commissioner for Transport, Ondo State and a Yoruba Nationalist, was born on the 4th March 1960 to the late Sir (The Hon.) Justice Samuel Akinnebi Tofowomo and Chief (Lady) C.A Tofowomo
Education: St. Matthias Primary School, Akure (1966-72); Aquinas College, Akure (1972-77); Rivers State School of Basic Studies, Port Harcourt (1979); University of Ife (1980-83); School of Civil and Structural Engineering, University of Bradford, England (1985); University of Buckingham, England (1986-88); University of Sanford, England (1990);
Qualifications: B.Sc. (Hons) Geography (1983); Postgraduate Diploma in Transportation, (1985), LL. B. Hons. (1988); M.Sc. Transport and Development Studies (1990); Fellow, Royal Geographical Society (1990); Member, Chartered Institute of Transport (1990), Member, the Institute of Transport Administration (1990);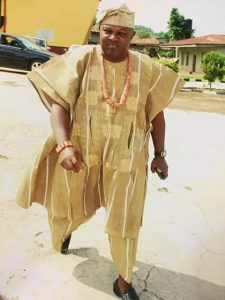 Career History: Clerical Officer, High Court of Justice, Akure (1977); Sales officer, Nidogas Company, Port Harcourt (1978); Administrative Officer (NYSC), Sunny Smile, Lagos (1983-84); Field Analyst, T& A Developments, London (1990-92); Placement Officer, London Borough of Lambeth (1992-95); Housing Officer, London Borough of Southwark (1995-2003); Assistant Temporary Accommodation Manager , London Borough of Southwark (2003-06); Field Director, London Fields Estate Agency (August 2007-Sept. 2009);
Political Career Milestone: Under the guidance and leadership of Governor Olusegun Mimiko, Otunba Tofowomo recorded the following achievements:
Managed Free school bus shuttle, first of its kind in Africa; Established traffic management unit (ODTMU); A rare privilege of being the longest serving Commissioner from Ile-Oluji kingdom; First commissioner to generate revenue for Ministry of Transport; Coordinated the integration of Okada and tricycle operators under one unit as commercial motor cycle and tricycle association (COMTRA);
Other Posts Held: Urban and Rural Transport Consultant in The Gambia and Sierra Leone 1992-1996; Chief Executive, Arate Developments, Akure 1999 to present; Principal Partner, Blue Elephant Collection, London 2006 to 2010;
Cultural and Socio-political Activities: Coordinating Secretary, Youth Wing, Unity Party of Nigeria (UPN) in Port-Harcourt (1979-1981); Special Adviser- National Union of Road Transport Workers Union, Ile-Oluji/Ekun-Ijama Branch 2002; Publicity Secretary Afenifere, Europe 2004-2007; President, Oduduwa Club 13, 2003-2009; Coordinator, Egbe Ilosiwaju Omo Yoruba in Europe 2006-2010; Senatorial Aspirant, Ondo South Senatorial District, Ondo (2003); General Secretary, Isedale Yoruba Club, London 1991-1995; President Isedale Yoruba Club, London 2000-2008; Action Congress' candidate in the 2007 House of Representatives election; House of Representatives aspirant on the platform of Labour Party (2011); Commissioner for Transport (Oct. 2011- Feb. 2017);
Social Affiliations: Director of Socials, National Union of Ondo State Students, Unife Chapter 1981; Member, Social and Cultural Committee of the Students' Union, University of Ife Chapter (1982); Secretary General, National Union of Ile-Oluji Students (1982); President, IleOluji National Union United Kingdom and Ireland (1990);
Otunba Tofowomo initiated the first female football competition among secondary schools and the Cultural Competition among primary and secondary schools in Ile-Oluji during Ile-Oluji Day celebration since 2001 through the Tofowomo Foundation (TOFOUND)
Interests: Travelling, Scouting, Sports and listening to Organ Music; Family: Married to Erelu Adenike Tofowomo (nee Onasanya), the Yeyegunwa of Ile-Oluji Kingdom and blessed with 4 children.
Honours/Awards: Merit Award of the National Union of Ile-Oluji Students (Unife) for excellence and dedication to Ile-Oluji (1983); Isokan Omo Oduduwa Loyalty Award by Isedale Club UK (2011); Club 71 Ile-Oluji Award of Excellence (2012); Special Marshal R.S. 11.2 Akure Award of Pillar of Safety on Ondo State roads (2012); Diocese of Ile-Oluji Diocesan Merit Award (2013); Amber Awareness Award of Recognition (2014); Ondo State Non-indigenes Outstanding Commissioner Award (2017) Chieftaincy: Otunba Oijefon of Ile-Oluji (2000 to present ); Babalakin of Ode-Remo (2000 to present)