The Senatorial Candidate of the Opposition People's Democratic Party (PDP) in Ondo South, Otunba Nicholas Tofowomo has called on the electorates in Ondo State to cast their votes for Atiku Abubakar, the presidential candidate of the PDP, ahead of the forthcoming coming general election.
He made this call on Monday during the PDP presidential campaign flag off in Akure, the Ondo State Capital.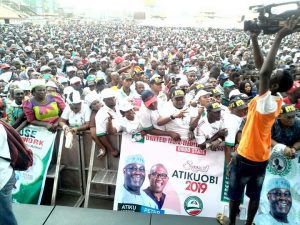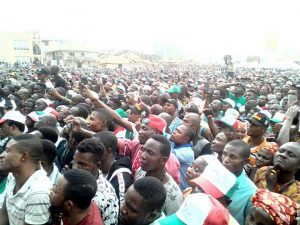 Tofowomo appealed to the mammoth crowd to embrace the restructuring agenda of PDP which he described as the best alternative to put an end to the lingering problems confronting the country.
He said the best solution to solve the problems in Nigeria is to restructure the country.
"To solve Nigeria's problems, the leadership must be changed to pave way for restructuring of the country which is the primary aim of Atiku Abubakar.
"It means you must vote for Atiku. You must vote out Buhari and his party, APC, because that is the only way Nigeria could be restructured. Atiku is determined to restructure the constitution, the institutions, the system and introduce a new approach to solve the lingering problems confronting this nation.
"We can't be running Nigeria with thesame approach without new ideas with restructured system and institutions and expect any meaningful change to take place. Embrace Atiku to help correct the defective system to get Nigeria work again ", Tofowomo tells the cheering crowd.