BREAKING: Charles III, Wife, crowned King, Queen at Westminster Abbey
Charles III and Camilla are crowned King and Queen in a ceremony full of music and symbolism inside Westminster Abbey.
Wearing his grandfather's crimson velvet robe, King Charles took an oath, was anointed with holy oil, before the St Edward's Crown was placed on his head.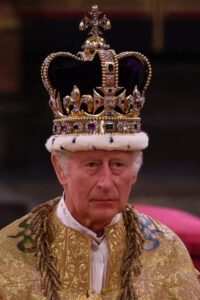 Camilla, the Queen Consort, was crowned with Queen Mary's Crown in a similar ceremony moments later.
About 2,200 people, including the Royal Family, celebrities, faith leaders and heads of state, are inside the Abbey to witness the event.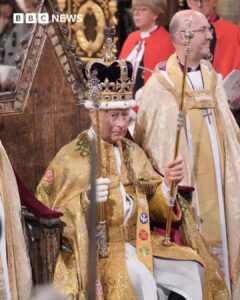 The royal couple arrived for the service in the Diamond Jubilee State Coach after a procession through central London.
Earlier, leading members of Republic, the anti-monarchy group, were among half a dozen people arrested near Trafalgar Square.
The archbishop places St Edward's Crown on the King's head.
It's the only time Charles will wear it in his life.
He then introduces the Lord's Prayer, asking the congregation to join him.
King and queen to take communion
King Charles III and Queen Camilla are no longer wearing their crowns.
The final part of the service will see the King and queen taking Holy Communion – the principal act of worship of the Christian church.
The choir is now singing Sanctus, composed by Roxanna Panufnik for this service. It
As the music continues, let's bring you up to speed with how the crowning moment was greeted outside Westminster Abbey.
A gun salute was fired by The King's Troop Royal Horse Artillery, stationed at Horse Guards Parade, and also a bit further down the River Thames at the Tower of London.
In total, gun salutes sounded at 13 locations around the UK, including in Edinburgh, Cardiff and Belfast as well as on naval vessels.
The traditional salvo involves 21 rounds, fired at 10-second intervals.
Credit:BBC