Senate 2019: PDP Aspirant, Tofowomo Presents Blueprint For Ondo South
1.7 min read
Categories: News
In pursuit of his political aspiration of becoming the next Senator of Ondo South through the forth coming 2019 National Assembly general election in Nigeria, Otunba Nicholas Tofowomo, a senatorial aspirant of the Peoples Democratic Party (PDP) and former commissioner of transport in Ondo State , has presented his blueprint, tagged: "STREP," to the entire people of Ondo South, in pursuit of a better future for the residents of Ondo South in Ondo State.
Tofowomo presented his blueprint at the Ondo South PDP senatorial meeting held yesterday at Edundun hall at Ileoluji, Ondo State.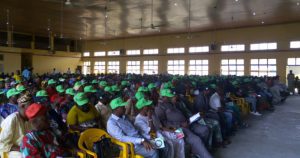 According to Tofowomo, STREP means: Security, Transportation, Resources, Employment and power (Electricity).
Under security, Tofowomo promised to make advocacy for a police college in Ore, advocate for the upgrading of Igbokoda Naval base, and better internal security and many others for his senatorial district.
On transportation, he promised to advocate for the review of railways extension to Ore town, advocate for the implementation of approved Inland port at Alape in Ilaje local government area. His agenda under transportation also cover advocacy for the rehabilitation of federal roads in Ondo south, and better links of the roads of riverine areas and others.
His advocacy under resources includes: oil well audit in Ondo south, proper utilisation of water resources, harnessing agricultural products through involvement of federal government, and effective use of glass sand resources in Ondo south.
Concerning employment, he promised to create data base for the unemployed in Ondo south, and scout for jobs for them. He also vowed to encourage self employment through youth development and empowerment drive, advocate for projects that would generate profitable jobs, and others.
His last agenda is power (Electricity). Tofowomo promised to advocate for the reform of power generation and distribution in Nigeria. He also promise to intensify efforts for the restoration of electricity back to affected councils in Ondo south. He said he will also work towards the criminalisation of estimated billing system at the Senate.