Former chairman of Okitipupa local government of Ondo State, Hon. Solomon Bitire, has declared intention to represent the peoples' of Okitipupa constituency II in Ondo State House of Assembly under the Peoples Democratic Party (PDP) in Ondo State.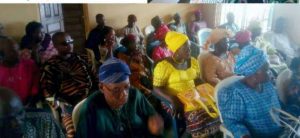 Declaring his intention at the party's secretariat in Okitipupa town of Ondo State, Bitire sought the support of all the leaders of the party in his constituency towards the realisation of his ambition.
According to Bitire :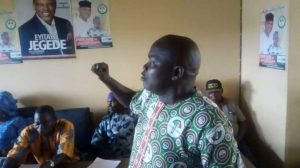 "Okitipupa constituency II needs a grass root politician who is very close to the people. We need a representative who resides with the downtrodden at home and can know where the shoe pinches. You will agree with me, I fit into this category. I am not a politician in abroad whose door is not open", Bitire added.
Bitire also said that "it is over 27 years when last Erinje ward (his ward) has been given the opportunity by PDP to produce a candidate for the Ondo State house of assembly."
Present at the meeting were some notable Party leaders, prince Akinsuroju Oluwatoyin, chief Dapo Akinteye, Chief Mrs Olubiyi, Mr Jide Akinnusi, Barr Tayo Ogungbemi, Mr Seriki Akinyemi, Otunba Olukunle Ajana, Mr Terry Allen and pastor Fadope.
Also at the meeting were the 6 ward chairmen in Okitipupa constituency II, some local government party executives within the constituency and over 40 women who are also leaders of the party in their various wards.
Members of "Driver Union" in Okitipupa local government were also in attendance to honour the aspirant.
The secretary of the party at the local government level, Mr Alli, who represented the chairman of the party at the local government, spoke on behalf of Party leaders and gave approval to the aspirant to proceed with his electoral campaign in all the 6 wards to seek support of delegates and members of the party.
Solomon Bitire was once the secretary and chairman of the party respectively at Okitipupa local government. He also rose to become the chairman of chairmen of party executives in the 18 local governments of Ondo State.