Nigerians in UK Protest against Buhari, put him in house arrest, can't see his doctor – Omokri
1.1 min read
Categories: News
They demand Buhari's return to Nigeria
In their placard, they say Buhari is President of Death
Angry Nigerians in the United Kingdom are currently Protesting against President Muhammadu Buhari's London Trip at the Abuja House in London.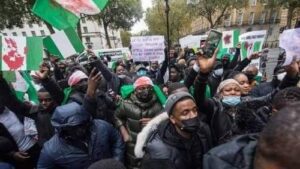 Starnews Nigeria reports that the youths were led by Aide of former president Goodluck Jonathan, Reno Omokri.
In a several tweets by Omokri, Nigerians took to the street of London to demand Buhari's return to Nigeria.
Omokri, the former aide to Goodluck Jonathan said Nigeria's President Buhari is under house arrest, which according to him has hindered the president from seeing his doctors.
Omokri tweeted:
"The #HarassBuhariOutofLondonmovement# has effectively made General @MBuhari a prisoner at Abuja House. He is under house arrest. He can't come out. He can't sneak out to see his beloved doctors. We have shown him who really has the power. Power belongs to the people! Now he know."
"I thank Nigerians for coming out for day 2 of the #HarassBuhariOutofLondon. Somebody suspected to be Buhari was peeping through the window. Their plan to go to the doctor was frustrated. For the second day, General @MBuhari was trapped at Abuja House. What a good day for Nigeria!" Omokri tweeted