Nigerian Millionaire Allegedly Buries Father With N32M Latest BMW Car
0.9 min read
Categories: News
The picture of a young Nigerian Millionaire from Anambra State who allegedly buried his late father with a N32M (Thirty Two Million Naira) latest BMW Car has gone viral on social media.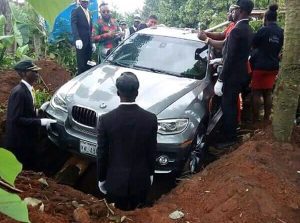 It was alleged that the incident happened at Ihiala Local government, Mbosi of Anambra State.
The picture had generated divergent views and opinions on social media.
Some people said it is act of craziness and out of place for any man to do such a thing, while some people disbelieve the authenticity of the picture. But one of those people who commented said that the picture was not fake but claimed it was generated from a scene in a movie. Another set of people queried why the graveyard was in the bush and not in a residential areas. As such, they doubt if the photo is real.
Starnews is currenty making efforts to speak to any residents of Ihiala Local government, Mbosi of Anambra State, to confirm the story.
More to follow…