Meet the 5-Star Floating Hotel Brought To Qatar To host World Cup Fans
The first and second of the three floating hotels have arrived in Qatar.
The cruise ship MSC World Europa docked at Old Doha Port to accommodate the FIFA World Cup fans during the tournament.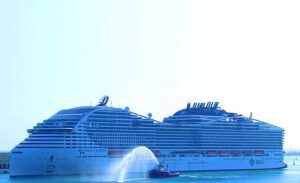 The 22-deck highly anticipated ship which is bespoke for the 22nd edition of tournament, was officially inaugurated on Sunday, November 13, for its Naming Ceremony .
Speaking to Al Kass TV, the Executive Director of the Housing Department at the Supreme Committee for Delivery & Legacy (SC), Omar Al Jaber stated: "This cruise is considered its first voyage to Qatar, where it was built for the World Cup in particular, and it is considered the largest ship in MSC Company.
The MSC World Europa, which boasts innovative and environmentally advance features, can house 6,700 World Cup fans. It spans 47 metres wide with 2, 626 cabins and 40,000m2 of public space.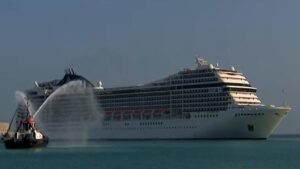 The ship has 6 swimming pools, 13 restaurants and all escort services to serve Qatar visitors to the World Cup.
With only 10 days before the kick-off of football's biggest event, the MSC World Europa serves as the first of three hotels to anchor in the country, while the second one arrived on Monday to join the largest floating hotel (MSC World Europa), which arrived in Doha on Thursday (November 10), to provide a luxurious hospitality experience for fans of the 2022 World Cup in Qatar.