Justice Abang Proceeds With Hearing Despite Collapse of Metuh In Court
0.7 min read
Categories: News
The collapse of Olisa Metuh, former National Publicity Secretary of the People's Democratic Party (PDP) did not stop the trial judge, Justice Okon Abang, from proceeding with the trial today at the resumed hearing in the case of alleged money laundering leveled against the defendant, Metuh by the Economic And Financial Crime Commission (EFCC ).
Metuh, who is facing a N400 million money laundering charge, had on several occasions, been on admission in various hospitals for failed health and had severally sought the court to grant him leave to travel abroad to take care of his health challenges.
Reports said medical officials are still attending to him following his collapse. However, the court is still in session as the trial judge continued with the case despite the uncertainty of Metuh's life.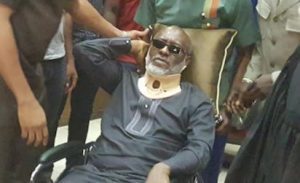 Details later…