Coalition of observers and civil societies who claimed to have monitored the Ekiti State governorship election last weekend have trooped to the United States of America Embassy in Abuja to protest against the victory of the candidate of the All Progressives Congress (APC), Dr.Kayode Fayemi who was declared as the governor-elect of Ekiti State by the Independent National Electoral Commission.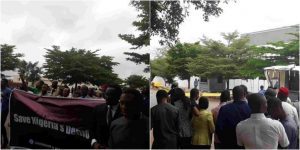 The groups said that the declaration of Dr. Kayode Fayemi of APC as winner of the election did not reflect the wishes of Ekiti People.
The groups vowed to expose how the election was massively rigged in favour of the APC candidate by Wednesday, July 18, 2018.
They however call on international community to come to the rescue of Nigeria democracy before it collapses.
Click here to subscriber to our youtube channel