Collection of various youths across the four local government areas of Ondo State, Okitipupa, Ilaje, Irele and Ese Odo local government respectively who were thrown into darkness by the Benin Electricity Distribution Company (BEDC),  have taken to the Lagos-Benin Express way in Ore, blocking the road to protest four years blackouts they said they have  being thrown into darkness by the electricity company over what they described as Obnoxious Estimated electricity bills.
The road was bariccaded and the rally has paralysed vehicular activities on the road as vehicles coming from Lagos to Benin cannot pass by and those coming from Being going to Lagos State cannot also go through, with vehicles coming from Okitipupa to Akure or those coming from Akure to Okitipupa cannot also pass by.
It has resulted to a very heavy Trafick on the road as at the time of filing this report with many passengers who were  stranded on the road coming down from their various vehicles to beg the protesting youths.
Watch the video
Just last week, it could be recalled that  the Edo Civil Society Organisations in conjunction with the Bring Back Our Light Group in Ondo State were also on the street of Edo State, demanding for the exit of BEDC which they claimed has failed electricity consumers in Ondo, Edo, Ekiti, and Delta State which are the coverage areas of the discos company.
The protesting youths in Ore also accused the Ondo State governor of very insensitive to their plight. They demanded for immediate revocation of BEDC operating license as they claimed that the economy of their various local governments have been crippled by the BEDC created darkness which has also resulted into untold hardships according to them.
Efforts by our correspondent to speak with any of the leaders of the protesting youths proved abortive as they were busy shouting, singing and dancing on the road against BEDC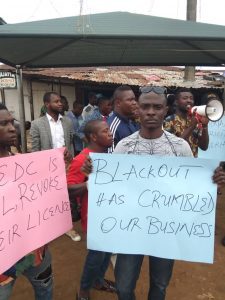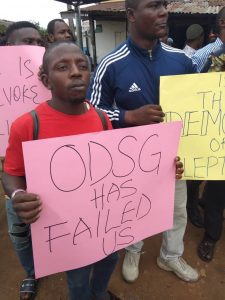 When contacted on phone, the convener of Bring Back Our Light Group in Ondo State, a group which has been in the vanguard of the latest effort to restore electricity to affected councils in Ondo south, pastor Olumide Akinrinlola, said that the patience of the peoples in Ondo south has been taken for granted both by government and BEDC.
Pastor Akinrinlola stated that the mother of rally tagged operation thunder storm against renewal of the operating licence of BEDC which will be coordinated by the BBOL team is under way.
He however commended all the various groups and youths of the senatorial district that organised themselves to stage the rally against BEDC failure to reconnect Ondo south despite instructions from the reguatory commission, Nigeria Electricity Distribution Commission (NERC) that the affected areas be reconnected back to the national grid by BEDC, an order he claimed was not obey till date by BEDC.