Leaders of Drivers Unions and Motocyslists (Okada Riders) in Ekiti State have taken a day off the road and parked all their vehicles and motorcycles at government house in Ado Ekiti, the Ekiti State capital in obedience to the sit-at-home order of governor Ayodele Fayose as a means of protesting what they described as security harassment and molestation of their people.
The state Chairman of National Union of Road Transport Workers, NURTW, Clement Adekola, told journalists on Monday night that their members would not work today to avoid bloodshed following alleged victimisation by APC thugs in collaboration with security agencies.
In this video, he said they do not want to be hit by bullets from APC/Fayemi thugs and policemen today as APC is having its campaign rally today just as it happened the last time according to him.
https://www.facebook.com/100001682529167/posts/1872666166132783/
They have therefore withdrawn their services in conjunction with motorcycle operators in Ekiti State vowing not to resume work not until the ongoing Fayemi/APC rally ends today.
See photos of parked vehicles at the Ekiti State government.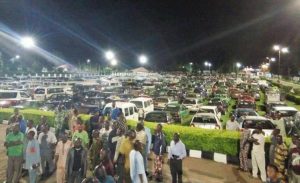 Clement also claimed in the video that they are for the PDP and its Candidate, prof Kolapo Eleka no matter the level of intimidation from the APC candidate, Kayode Fayemi.
He said:
"I have been receiving strange calls and even told that thugs from Ondo State have been hired to attack our members and perceived supporters of Governor Ayodele Fayose.
"We decided to withdraw our services from the roads so that they won't carry out their threats to
Meanwhile President Muhammadu Buhari is presently in Ado-Ekiti Tuesday (today) to attend the mega rally of the APC governorship candidate, Dr. Kayode Fayemi.
Click here to subscriber to our youtube channel