Renovated Block of Classrooms By Dino Melaye Burnt Down In Kogi
1.1 min read
Categories: News
Newly renovated block of classroom buildings of government girls secondary school in Sarkin Noma and Lokongoma in Lokoja local government area of Kogi state which are due for commssioning this morning by Senator Dino Melaye of Kogi west, were razed down and vandalized by yet to be identified hoodlums over the night.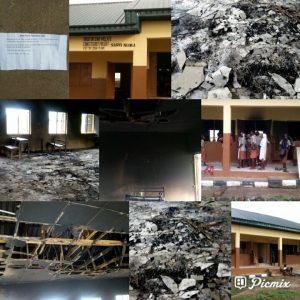 Starnews gathered that renovation of the buildings were done by Senator Melaye after aged long abandoned by successive state government.
The projects were among sixty nine projects Senator Melaye had arranged for commissioning to mark his three year stewardship as a senator of the Federal Republic of Nigeria.
Investigation conducted by our correspondent reveals that some unknown youths had yesterday warned the Senator not to visit Kogi State with distribution of some pamphlets to the public which read:
"Dino don't patronize Kogi. Stay away, or  else, you have yourself to blame. Save yourself and remain where you are, keep off from our land."
Another one read:
"Dino come and reap what you sowed, you don't respect our leaders so we don't respect you. Respect is reciprocal. "Take what you get if you dare us expect the worse, we warn you."
No reports of any arrest yet as at the time of filing this report.
More to follow.