Following the resignation of the Minister's of finance, Mrs Kemi Adeosun, from the cabinet of president Muhammadu Buhari over alleged NYSC forgery certificate scandal, the Opposition Peoples Democratic Party (PDP) has demanded for her immediate arrest and prosecution by relevant  government agency.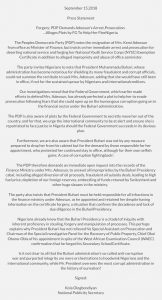 The opposition PDP acknowledged the resignation of KemiAdeosun from office as Minister of Finance, but insisted on her immediate arrest and prosecution for deserting national service and forging her NYSC Exemption Certificate in addition to alleged impropriety and abuse of office.
The party accused president Muhammadu Buhari for becoming notorious in shielding many fraudulent and corrupt officials in his government.