It was another feather to the cap of former Chairman of Ilaje Local Government and the current Publicity Secretary of the Opposition Peoples Democratic Party in Ondo State, Hon. Banji Okunomo, on Sartuday, November 10, 2018, when he was conferred with a Merit Award as most Vibrant Politician of the year by the South West Environmental Vanguard, a Non Governmental Organisation (NGO) that cuts across the South West of Nigeria.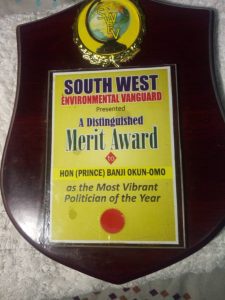 At the Award ceremony, the Recipient, Okunomo, also delivered a lecture on 'Voting Credibility' in the coming 2019 elections in Nigeria.
The presentation of the Award was done by the President of the group, Ojo Akinyemi Tewe, at Greater Tomorrow Secondary School in Okitipupa Local Government of Ondo State.
Notable Leaders of the PDP, Family and Friends of Okunomo graced the occassion.