A middle-aged Nigerian man, Isa Mohammed Munlaila pictured below with a box built as coffin on his head, today began trekking from Lagos to Abuja to kick against the second term ambition of President Buhari.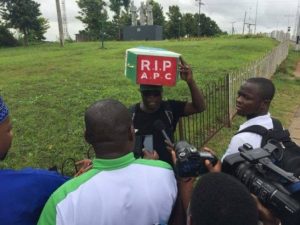 Speaking to newsmen in Lagos as he embarked on his journey, Munlaila said Nigerian youths are angry with Buhari for failing the nation after three years at the helm of affairs.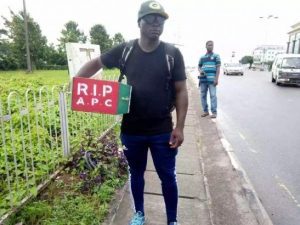 He carried a small coffin painted in the colour of the All Progressives Congress (APC) with the inscription: "R.I.P APC."
Munlaila says he hopes his gesture will be appreciated by Nigerian youths and not vote for president Buhari in 2019.
Recall that in 2015, Suleiman Hashimu walked from Lagos to Abuja for 18 days, to celebrate Buhari's victory at the polls.
More to follow..