Irawo Oni-Oodua of Yoruba Attacks Olori Naomi Over Alleged Indecent Dressing
Erelu Mabel Tinuade Onaneye, the titleholder of Erelu Oodua and Irawo Oni-Oodua of Yoruba land,
has attacked Evangelist Naomi Silekunola, the estranged wife of the Ooni of Ife, Oba Adeyeye Ogunwusi Ojaja II, over alleged indecent dressing.
Erelu dropped her opinion on her Facebook page three days ago over the image of the Olori in an expensive outfit which she claimed exposes half of the Queen's Breast.
In a post, she titled " To Those Who May Run Diarrhea Over This Address", the Texas, United State of America (USA)-based businesswoman, accused Olori Naomi of bringing disgrace to her Husband, Oba Adeyeye Ogunwusi Ojaja II, the Ooni of Ife.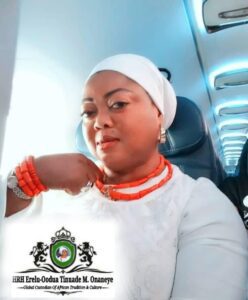 As copied from her Facebook page, Erelu wrote below in anger:
"TO THOSE WHO MAY RUN DIARRHEA OVER THIS ADDRESS, (sorry)"
"Once upon a time, Naomi can be Ooni Adeyeye Ogunwusi's estranged Queen in their living room @ Ile Ife. But with the image below, this one is not Yoruba Queen. I cannot see a good role model in her, both the prophetess she claimed, the Olori she claimed, now she's a runway fashion, local model. Which one you be self ex Olori? I didn't say that you're not Olori, but you said it to all the Yoruba people that, you're no more our Queen. Where do you belong? Everything about her is never right. Fake!, fake!!, fake!!! Photoshoot with half of your breast displayed outside. O kin se Iyawo Oba. Show up for who? Road don close my dear prophetess. Diversion ahead or yield completely."
"We, the concerned Yorubas, open your pages since you entered our domain, na so so bad omen, you dey carry come meet us. Religious palaver, you wanted to turn our orisun isese, Igbo Eledumare to Jesus church. You, your mama and your siblings turned our Ile nla si, ju idi balabala niwaju musician. Eyin aboraje. Because of your public attitude, behaviour, and social media malady, brought so much disgrace and ridicule to our monarch. What are you selling? pupo lanta."
"Every marriage has issues, we manage it, to be honest since this girl publicly announced her separation or divorce from the monarch and disclaimed to be addressed as the Queen of Ooni and Ile Ife. How dare you! Now claimed to be people's Queen? Iro lo pa. You're not a queen, you're a fraudster. How dare you! Naomi, Oluwaseyi, to destroy our tradition, culture, heritage (Ori apeere Yoruba), ancestors, because you and your mother want to be famous."
"The Irunmoles told me they will sweep your ass out, they did. Eepa Orisha! If you pack out and pack in 200 times, ninu ni gbehin ologbo. Radarada, alaini itiju. O wole ola, fe ba Ile ola je.
Come here, I read on Google that, you're a dropout from college, that you only have a high school diploma. Ise gan, o ni. What's your pride then, pelu Ijo ofo lori social media. Ooni is not a wicked man, they just took advantage of his kindness, vulnerability, generosity and trust."
"Oba Adeyeye Ogunwusi, jor! Betekuma ooo. Mu pete le gwo, memera eee. Yinnu, kabiyesi, olowo mo batan, emi ko ba oloshi tan. You're not doing enough to the Yoruba people. After all, you're the custodian of our heritage. Lead us with good examples, love us, deliver us, protect us, the Yoruba people are not happy."
"Lastly, Naomi, never you come out again and talk about advising the women. Tani egbe e? Clean your dirt closet first. Address your peers, okay!
Your loudness is unnecessary, after all, Ooni's ex's don't even bring their predicament to the social media, it's only you. ? STOP IT!"
"Author: HRH Tinuade Mabel Onaneye. The Erelu Oodua of Aye Kingdom."
Meanwhile, Queen Naomi Silekunola is yet to respond to the post by Erelu which has gotten Nigerians talking on social media.
Disclaimer Notice:
Opinion on this page is that of the WRITER AND not Starnews NG