"I Have Mandate of My People To Run For House of Rep" –Ogunwa Oboli
When he was asked about his chances of winning the general election if given the ticket of the Opposition Peoples Democratic Party (PDP) to represent the party as candidate for Okitipupa/Irele Federal Constituency in the forth coming National Assembly election in Nigeria come 2019; he said the following:
"PDP is the only political platform that has the confidence of the electorates for now. The ruling All Progressives Congress (APC) has failed the masses across board. PDP is the only alternative party that can win election today. This is because Nigerians are already relics of APC first coming into power through deceit and propaganda."
"Besides this fact given, my immediate constituents also repose confidence in me. They know I am more than capable and qualify to represent them at the National Assembly in Abuja. Apart from being a Chartered Engineer, Fellow Chattered Accountant, Fellow Chattered Tax Consultant, a World Class Environmentalist, I am also a known community leader who resides with the people at home, and by so doing, the people know that I know where the shoe pinches because we always eat and dine together at home."
These were the words of Engineer Niyi Ogunwa Oboli (FCA) when he was attending to questions thrown at him by the Press after he picked the PDP notification of interest and requirement form for the house of representatives, Okitipupa/Irele Federal constituency.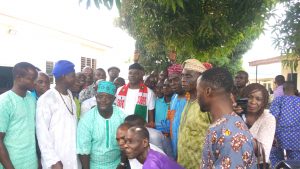 Ogunwa who sought for the support of the leadership of the party at the state secretariat in Akure, said that Ode Aye, his community under Okitipupa local government of Ondo State, has never produced anybody to the house representatives in Abuja since the birth of politics in Nigeria.
He also said that his mission is to go and give quality representation for people of his constituency at the green chamber of the National Assembly by putting his wealth of experience and diversify qualifications to legislate on bills that will be productive for the people of his immediate constituents and Nigeria at large.
While speaking on behalf of the party, the state Chairman of PDP in Ondo State, Engr. Clement Faboyede said that the aspirant, Ogunwa, is a loyal party man with high level of integrity without having any questionable characters. Faboyede said that he has no doubt that Ogunwa has the credibility to win the general election if he succeed to win the party's primary election.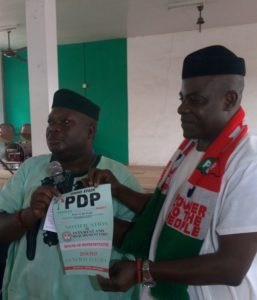 The PDP state Chairman also said that the people should go and get their permanent voters card (PVC) ready, which is the only weapon the electorates have to flush out the APC from the seat of power according to him.
He also advised the people to vote for their conscience and not trade their votes for money.
Present at the party's secretariat were some notable PDP leaders and some party's executives both from Okitipupa and Irele local governments of Ondo State.