Flypast for King Charles' coronation scaled down due to downpours
The military flypast over Buckingham Palace to mark the coronation of the King and Queen has been scaled down because of the weather and will now be formed of just helicopters and The Red Arrows, the Ministry of Defence has said.
London has been drenched by heavy rain with storms around the UK on Saturday, and the previously-scheduled flypast has had to be drastically cut back in response.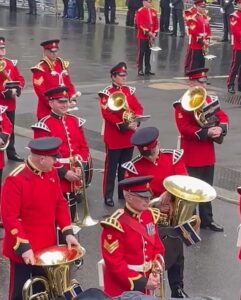 The news, which will come as a disappointment to many royal fans, came after a soldier had to pause and tip rainwater out of his tuba while marching back to Buckingham Palace after the King and Queen's Coronation ceremony at Westminster Abbey on Saturday.
An MoD statement said: 'Due to unsuitable weather conditions, the coronation flypast will now be formed of helicopters and the Royal Air Force aerobatic team The Red Arrows. 'The flypast will last for two minutes and 30 seconds.'
It wouldn't be a classic British celebration without a spot of rain – and the King's big day followed a long tradition of rainy Coronation days in Britain in the last century.
Credit: Daily Mail