Over 20,000 Fayose's "EFCC I'm Here" T-shirt are presently being circulated in the market for sales, Starnews has learnt.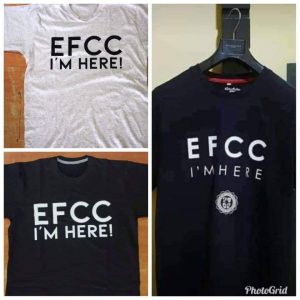 Starnews reported two days ago that former governor of Ekiti State, Ayodele Fayose made himself available to the Economic and Financial Crime Commission (EFCC) in Abuja with host of supporters wearing a branded T-Shirt inscripted with the word: EFCC I'M HERE.
Fayose had promised to submit himself to the EFCC over allegation of corruption leveled against him.
Independent report by Starnews revealed the sales of Fayose's "EFCC I'm Here" T-shirt in Lagos, Aba, Onitsha, Ekiti and in some other states in the south east and south-south of Nigeria.
Ayodele Fayosen is still in EFCC custody as at the time of this report.
His media aide, Lere Olayinka has alleged that EFCC does not have any evidence of corruption to charge Fayose to court, which he claimed resulted to his continuous detention without charges.
Olayinka said; "With the deafening noise that they made about the evidence of corruption in their possession and even going by the EFCC ignoble tweet of July 15, 2018, in which the commission expressed its readiness to prosecute the former governor immediately he no longer enjoyed immunity, Nigerians had expected that by now, he will be facing trial in court.
"However, because the EFCC does not have any evidence against Fayose, the commission has opted to keep him in detention so as to satisfy its paymasters whose major agenda is 'Fayose must be kept out of circulation by whatever means.'
"If not that they are just interested in keeping him out of circulation, why is the anti-graft commission not in court to prosecute him with the 'overwhelming evidence' it claimed to have?"