Breaking: Bill To Establish Ondo Seaport Passes Second Reading At Senate
A Bill to set up Araromi Front Sea Port in Ilaje Local Government Area of Ondo State has passed the second reading in the Senate.
Starnews Nigeria reports that the bill was sponsored by Senator Nicholas Tofowmo (PDP Ondo South) and read the second time on Wednesday at the Senate plenary.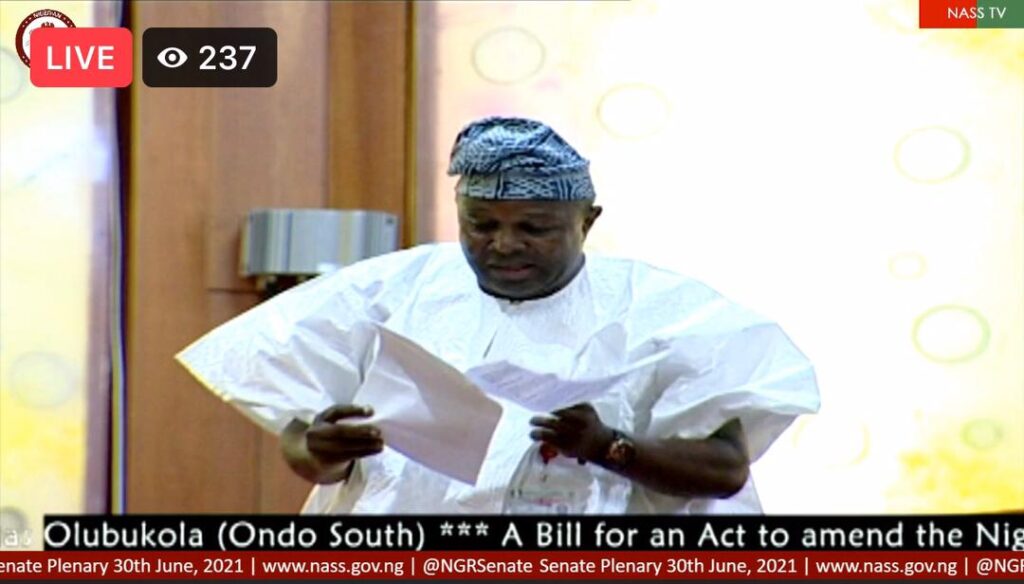 In his lead debate, Senator Tofowomo said Nigeria is overdue for a minimum of 20 major seaports, while lamenting that the country is still struggling with 6 sea ports namely: Lagos Port Complex, Tin Can Island Port, Calabar Port,
Delta Port, Rivers Port Port- Harcourt and
Onne Port, noting that two of the seaports – Lagos Port Complex and Tin Can Island Ports are already congested for serving several states in the country.
According to him, the proposed Araromi Sea Front port which is strategically located on the Atlantic Ocean coastal line, would play a big role in decongesting Lagos seaports and would serve five states which include Ekiti State, Osun State, Kogi State, Edo State and Ondo State, with other surrounding states if the establishment bill is passed.
After much deliberations by Senators, the bill was considered and passed the second time.
Read the lead debate below:
"Mr President, Distinguished Colleagues, I am very optimistic and delighted to lead the debate on this economic oriented bill which seeks to the establishment of a sea port in Araromi Sea front in Ondo State. You would recall that this bill was first read on the 24th of March 2021."
"Sea ports have changed many countries all over the world and many countries have used sea ports to improve their importation and exportation business and also develop their marine transportation. It would be interesting to know that there are 96 sea ports in South Africa with a population of 60 million, meaning that 625,000 South Africans would have access to a sea port if distributed evenly."
"There are over 200 sea ports in the United Kingdomwith a population of 70 million, meaning that 350,000 Britons would have access to a sea port if distributed evenly. Also, there are 22 sea ports in Morocco with a population of 37 million, meaning that 1,680,000 Moroccans would have access to a sea port if distributed evenly. There are 15 sea ports in Egypt with a population of 100 million, there are 360 commercial sea ports in the United States of America with a population 330 million, and there are 14 seaports in Italywith a population of 61 million."
"Libya has 15 sea ports with a population of 7 million. There are 6 seaports in Ghana with a population of 32 million meaning that one seaport in Ghana serves 5.3 million Ghanaians, while in Nigeria with only 6 major sea ports indicating that a sea port in Nigeria serves 33.3 million Nigerians. This is not only sad but unfortunate and it's one of the key to our slow economic development. Our stand in the 9th Senate is to move Nigeria forward economically and reposition Nigeria in the field of global economy. Nigeria is overdue for a minimum of 20 major seaports and we are still struggling with 6 sea ports which are as follows:
Lagos Port Complex,
Tin Can Island Port,
Calabar Port,
Delta Port,
Rivers Port Port- Harcourt and
Onne Port."
"The Lagos Port Complex and Tin Can Island Ports in Lagos State are congested and over worked serving Lagos State, Ogun State, Osun State, Ondo State, Kwara State, Kogi State, Ekiti State and many other states in Nigeria and neighboring countries, which has built daily traffic congestions and had a significant importation and exportation delays of goods with additional cost to traders."
"The Araromi Sea Front port is strategically located on the Atlantic Ocean coastal line and it has a deep sea that would accommodate large vessels. The port would play a big role in decongesting Lagos sea ports and serve 5 states which include Ekiti State, Osun State, Kogi State, Edo State and Ondo State, with other surrounding states. This sea port would give an end to illegal importation and exportation on our land borders and all imported goods would be channeled through Lagos ports and more revenue would be generated."
"The port would create employment for thousands of people and make clearing of goods faster. Our coastal line in that region would develop and improve trade commerce and industry. Araromi Sea Front tourism would improve because it has white sand like Brighton in United Kingdom."
"Araromi Sea front port would improve agricultural products like Cocoa, Cassava, Plantain, Oil Palm and Rubber; this would be easy to export and earn foreign exchange and improve our economy."
"Federal government is investing on railways through foreign loan, in this regard World bank support would also help in establishing this sea port and if properly managed the sea port would fund itself and business opportunities would extend to surrounding states. Thiswould be a good innovation and the funding would not affect our economy. The 9th senate is very committed to developing Nigeria economy and if we can embrace establishment of more sea ports in Nigeria our genuineness to economic developed would be established."
"Mr. President, Distinguished Colleagues, Sea ports havehelped many countries to develop and if we establish more sea ports our economy would improve, importation and exportation would grow, our coastal areas that have been neglected would receive attention, income generation would also improve. Many government institutions would be extended to this new sea port."
"In Conclusion, I want all my distinguished colleagues to support this bill and let us drive establishment of more sea ports in Nigeria so that life would change and more jobs would be made available and exportation of commercial goods would improve our revenue."