Breaking: Akwa Ibom Youths Protest With Coffin Over Siege On State Assembly
0.9 min read
Categories: News
Youths of Eket Local Government areas of Akwa Ibom State have mounted barricades against Mobil Housing Estate, Mobil Airstrip & other Exxon Mobil Locations with coffin and vowed to disrupt operations if the Federal Government continue to fuel crisis in Akwa Ibom.
Their words as captured by one of the youth leaders, Snr. Comr. Daniel Essien, read: "we will resist every operations in the ExxonMobil field, if the Federal Government continues in fueling crisis in our peaceful State. We will stop every arm of WARSAW perpetrated in our peaceful State", they stated.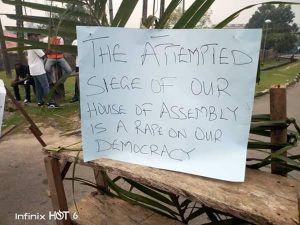 Yesterday, crisis erupted at the Akwa Ibom State House of Assembly after five members of the Assembly belonging to the Ruling All Progressives Congress (APC) earlier expelled, reconvened to purportedly initiate impeachment proceedings against Governor Udom Emmanuel, over the struggle for political supremacy in the State.
More to follow..