Coronavirus Update: Banji Okunomo urges Nigerian pastors to seek divine intervention
As the virus spreads to Aso rock, six states in Nigeria
Many presidential aides in self-isolation
10 Senators, 15 Reps allegedly tested positive
National Assembly shut down
Garba Shehu, IG, two govs, others were allegedly in contact with Kyari recently
As Nigeria's government intensified efforts to prevent the spread of Coronavirus after cases of the pandemic rose to 44, Banji Okunomo, leading governorship Aspirant of the People's Democratic Party (PDP) in Ondo State, has urged Nigerian pastors to seek the face of God over the spread of the disease in Nigeria.
He made this call through a telephone interview with Starnews NG Correspondent on Tuesday.
According to him, his concern is about the poor masses in Nigeria who were already undergoing the excruciating poverty in the country and may be exposed to the Coronavirus pandemic.
"I call on all the respected men of God in Nigeria to seek the face of God over the spread of Coronavirus pandemic which is currently ravaging the land. This is the time we need them most in Nigeria. I can't just imagine how the poor masses who were already undergoing the excruciating poverty in the country could survive under this bad situation of Coronavirus pandemic", he said.
Meanwhile, Starnews NG reports that Nigeria has recorded over 40 positive cases in six states with Lagos having (28), FCT (7), Ogun (2), Ekiti (1), Oyo (1), and Edo (1).
Get the latest news at your fingertips by Downloading our news App via Google Play Store
Two of the cases have recovered and been discharged, while the nation's first coronavirus death was announced on Monday.
Buhari's Chief of Staff, Abba Kyari, tests positive
In a similar development, the Chief of Staff to President Muhammadu Buhari, Abba Kyari has tested positive for Coronavirus.
Kyari allegedly did not follow the due process of self-isolation as directed by NCDC after he returned from Germany on the 14th of March.
He was said to have attended a meeting on Saturday in Aso rock where he began to cough repeatedly and thereafter surrendered himself for testing. He has now gone into self-isolation for treatment.
President Buhari tests negative
President Buhari is said to have tested negative to the virus. The test on the President was necessitated after Kyari, who is also a close relation of Buhari, tested positive.
Kyari had been suspected to have contacted the virus since he fell ill after returning from Germany. Germany has been reported to have recorded 29,056 cases and 123 deaths.
This development comes a few days after Kyari ordered serving Nigerian lawmakers, who recently arrived in the country from foreign trips, to submit themselves for Coronavirus test.
Aso Rock shuts down over Kyari's status health report.
Activities in Nigeria's seat of power, Aso Villa, Abuja, has been shut down following the confirmation on Tuesday after Abba Kyari, Chief of Staff to President Muhammadu, had tested positive for Coronavirus.
The lockdown of Aso Villa, according to top insiders, was to prevent a further spread of the virus especially after Kyari came in contact with several high-ranking Presidency officials.
Get the latest news at your fingertips by Downloading our news App via Google Play Store
SaharaReporters gathered that Kyari met with Garba Shehu, Senior Special Assistant on Media and Publicity to President Buhari, Babagana Kingibe, a prominent member of the 'cabal' and Kogi State governor, Yahaya Bello, in recent days.
Aliko Dangote, Governor Bello Masari of Katsina and Inspector-General of Police, Mohammed Adamu, are among others that Kyari came in contact with after returning from his foreign trip.
Shehu and Kingibe are said to have been in self-isolation since Kyari's infection emerged while there are indications that Governor Bello may have toed the same path, too, to protect himself.
Kyari had visited Bello recently over the loss of his mother.
According to findings by SaharaReporters, Kyari is currently being isolated for treatment at a guest chalet in the Defence House in Abuja.
National Assembly shut down over coronavirus
The National Assembly has totally shut down legislative activities indefinitely as a preventive measure against the dreaded coronavirus pandemic.
Meanwhile, there were allegation raised by a former Senator, Shehu Sani, and Zain Ameen that 10 Senators and 15 members of the House of Representatives were tested positive.
They were alleged to have been receiving treatment secretly in private hospitals.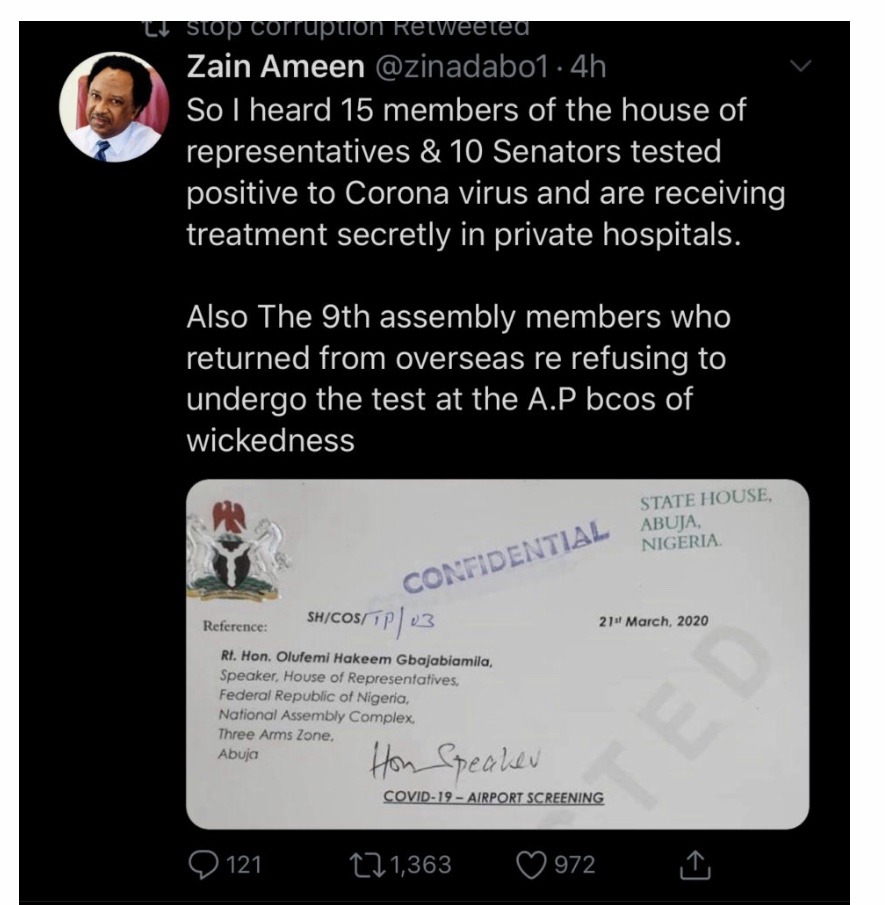 Get the latest news at your fingertips by Downloading our news App via Google Play Store