The Nation reported that no fewer than fourteen candidates have been returned opposed  in the on going APC national convention.
Some of the candidates includes:
Comrade Adams Oshiomole national chairman, Alhaji Ibrahim Masari national secretary,  Zakari Mohammed North central leader,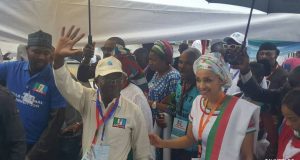 Abubakar Sadiq, zonal secretary North East among others.
It was also advised at the convention by the master of ceremony (MC) that the APC slogan of "change" be replaced by progress.
Meanwhile, Sahara reporters has reported that some delegates at the ongoing national convention of the All Progressives Congress (APC) exchanged blows while President Muhammadu Buhari was delivering his speech.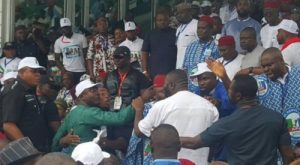 Trouble started after a group loyal to Rochas Okorocha, governor of Imo state, arrived at the stand reserved for Imo delegates.
They asked those loyal to Eze Madumere, the deputy governor, to vacate the seats.
The order was resisted, leading to fisticuffs as the private security guard of the governor called "Okorocha Good Governance " descended on members of the group.
Hillary Eke, chairman of the anti-Okorocha faction, was forcefully thrown out of his seat alongside other members of the executives.
Osita Izunazo, organizing national secretary of the APC who is opposed to Okorocha, was not spared as he was led out of the pavilion.
Similarly, the Delta State factions of the party also engaged themselves in free-for-all.
The aggrieved delegates also threw brooms, the party's symbol, at each other.
Earlier, Buhari said the party would emerge stronger after the convention. He appealed all those all those who are aggrieved to keep the faith.
John Oyegun, former chairman of the party, thanked APC leaders for the support rendered to him.
He singled out Bola Tinubu, a national leader of the APC and Tony Mommoh, former chairman of the Congress for Progressive Change (CPC) for a mention.