An APC chieftain from Ondo State, comrade Gani Muhammed has taken to his Facebook page to commend governor Ayodele Fayose of Ekiti State for the construction of a lengthy fly over bridge which also beautify the state.
Gani, one of the critics of Fayose and PDP's administration under Jonathan, said the bridge is a huge project that could swallow the finances of Lagos State, let alone Ekiti State with little resources.
Gani who posted his picture and that of his friend under the bridge said :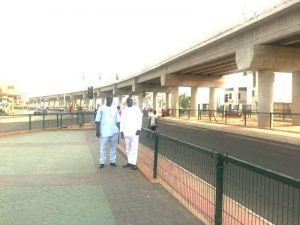 "I was in Ado-Ekiti this evening and that afforded me time to figure out the quality and size of the flyover bridge near completion in the state capital."
"I don't know the actual length of the bridge but it is about a mile long !"
"A project of this magnitude could be huge for the finances of a rich Lagos state, and for a financially lean Ekiti to have pushed the project this much is commendable."
"I congratulate Gov. Fayose on this", he added.